Anyone. Anytime. Anywhere.
"When a van drove over my son, his granny and KSS saved his life" - Chris Laker
"As Alden and Sue lay on some grass at the event, a van ran over them. There was simply no time for them to move out of the way. Sue rolled over Alden to protect him, but they went under the wheels twice. As we burst into A&E I called out 'My son is four. Flown in by Air Ambulance. Where is he?' - Chris Laker "
Dr Harriet Tucker - KSS Helicopter Emergency Medical Service (HEMS) Doctor
My memories of caring for Alden are very clear. After we landed and ran to the scene, we immediately assessed both injuries and agreed that Sue could be safely taken to The Royal Sussex County Hospital in Brighton by road. But Alden needed the KSS helicopter to quickly reach the specialist paediatric
major trauma care available at St George's Hospital in London.
Alden's pelvic and limb injuries were concerning as they had potential for serious broken bones, internal bleeding, and damage to organs like his bowel, liver or spleen. We kept him safe, calm, warm and pain-free, while minimising any movement around his pelvis, until they could be investigated thoroughly at
hospital. One of the team even found a teddy bear for Alden to hold, until he was in the care of the hospital team.
Alden's story shows that with your support, we can always be there when you need us most. Not just with clinical treatments, but with a level of care that looks after people as if they were one of our own family. We will talk and reassure them. Make sure they are not in pain. Keep them safe and warm. Until you are with them and can hold their hand yourself.
"We are so grateful for the Laker family's support for our charity. After all they've been through, it's humbling that they are sharing their story to help others"
Dr Harriet Tucker
KSS Helicopter Emergency Medical Service (HEMS) Doctor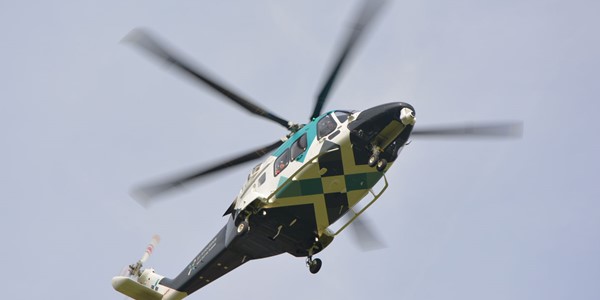 Find out more about KSS and how we operate
Even a small donation can have a massive impact